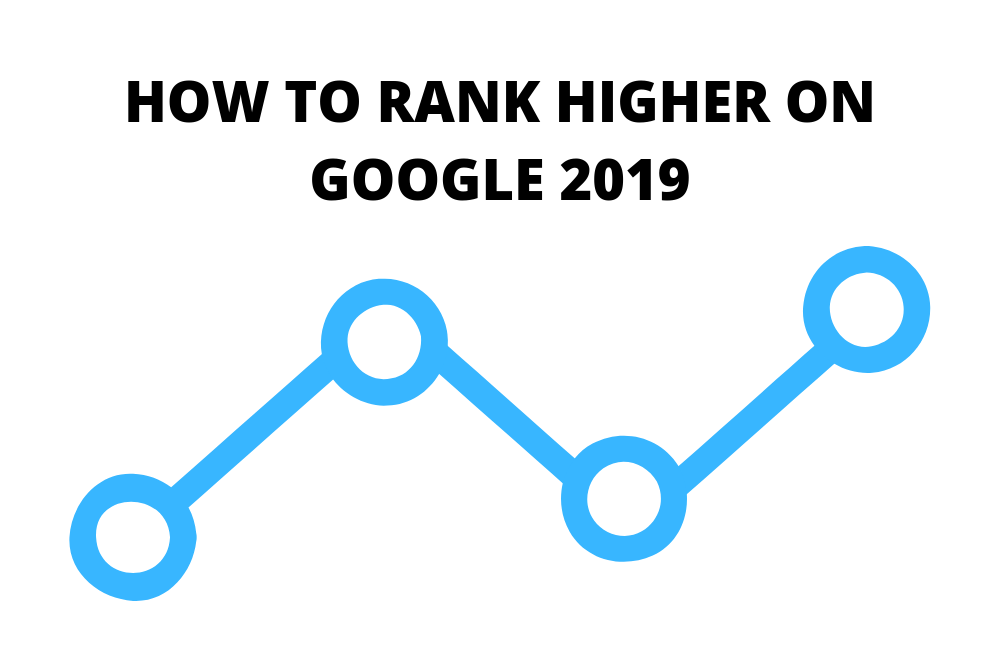 The Ultimate Guide on How To Rank Higher On Google In 2019
Before we answer the question of how to get higher on Google search, we should ask the question, why is it important? The answer, of course, is that the Google ranking of your website could determine the amount of traffic it receives, and so the return on investment you get on your digital marketing campaign. By using the correct keywords, and paying attention to aspects such as page site speed, content quality, backlinks, link building and bounce rate, you can end up higher on SERPS (the Search Engine Results Pages), and build your company's brand presence and sales.
If the secret of how to rank higher on Google was a simple one, everyone would be doing it – the fact is that it's not a matter of one simple technique, such as search engine optimisation or paid traffic. Obviously the benefits of SEO are huge, but Google's algorithms are not always entirely obvious; many websites have put enormous effort into SEO only to find that some change in the way their Google ranking is calculated puts them at the bottom of the SERPs. 
The algorithms determining search engine ranking sometimes change in large, obvious ways, such as when Google announced that websites with links to social media, local SEO, or sites configured for mobile use would be ranked higher; sometimes the changes are more subtle and only a good deal of work using Google Analytics and other tools will give an insight into what has changed.    
So, there isn't a single answer on how to get higher on Google search, but in fact a whole raft of techniques to improve your search engine ranking. Let's take a look at the most valuable ones that might be recommended by an SEO agency.
How To Rank Higher On Google in 10 Simple Steps
1. Keyword Research
Search Engine Optimisation, or SEO, is the art and science of improving your Google ranking by using keywords appropriate to the market and customers your website is appealing to. The first step in doing this is keyword research, using tools such as Soovle, Moz and Google Search Console.
Each of these tools is designed to find keywords which work for your market. The way SEO works means that popular keywords are often unavailable because they are bought up by large companies with big marketing budgets. This way of generating paid traffic can be an expensive solution to the problem of how to get higher on Google Search, so smaller companies use keyword search to find less popular but still useful keywords. 
Keyword search tools each tend to have a unique selling point; Google Search Console, for instance, has particularly good performance report functions, listing the pages on your site that get the most clicks from Google and the and the exact keywords that brought them there.
The Moz Keyword Explorer is very good at finding "lateral" keyword ideas, and will also estimate the number of clicks you will receive if your website features in the top 10 on the SERPs. The downside with Moz Keyword Explorer is that it is part of a whole suite of paid-for keyword tools.
2. Produce High Quality, Engaging, and Relevant Content
Content is king so far as SEO is concerned – when Google's web crawlers find your page, they check many aspects such as page site speed, backlinks and technical SEO (title tag, meta description, domain name and so on) – but the most important aspect in terms of how to get higher on Google search is content quality.
Content quality is harder to measure than conventional content metrics such as page views, unique views, and social media traction. These will tell you size of audience, distribution strategy effectiveness, and SEO spend, but don't necessarily reveal the impact of content quality on audience engagement.
Content scoring, the process of assessing and quantifying the true potential of content by tracking how individual content pieces perform in generating and converting leads, is the objective method of assessment for writing.
Content scoring using tools such as Hubspot and Atomic AI measure aspects such as consistency, tone of voice and even emotional intensity, and can help you to choose successful topics and generate headlines.
Yoast SEO, one of the most popular tools for optimising your site and its pages for search engines, is a plugin for WordPress. Yoast SEO helps you to optimize your content as you're writing it  – features include a Block Editor, where you can
insert the word or phrase you want to optimize the page for – the "focus keyphrase" – and see a readability analysis. The checks in this tab help you write better copy. Yoast SEO has 'freemium' and 'premium' versions and is in use on over 5m WordPress websites.
3. Create Relevant Title Tags And Meta Descriptions
Creating relevant title tags and meta descriptions is one of the most essential elements of technical SEO. The title tag, an HTML tag that sits in the head section of each webpage, provides the initial information as to the subject of the page, and features prominently in the search engine results pages (typically used as the clickable link), as well as in the browser window. It isn't otherwise visible to the user, but is a crucial aspect so far as Google's search engine ranking is concerned. When you are optimising your title tags, remember where the page fits in the overall hierarchy of the website, becoming more specific as you get deeper into the website. When several pages have the same tag, those tags are of no use to the search engine.
One useful search engine optimisation technique is to put a call to action in your title tag; as this is what shows on the SERPs, the message featured here can impact on the searcher's decision whether or not to click through to your site.
The HTML meta description tag is a 160-character snippet used to summarize a web page's content. Search engines can use these snippets in search results to tell visitors what a page is about before they click on it, so while meta description tags are not important to search engine rankings, they can be extremely important in gaining user click-through from SERPs. The short met description is the webmaster's chance to advertise content to searchers, and tell them exactly what they can expect to find on the page.
4. Take Advantage Of Google Analytics and Google Search Console
There are lots of good reasons to take advantage of Google Analytics, and not just because it's free (big companies can pay $150,000 a year to use pro version Google 360, but the standard free version is plenty for most of us).
Google Analytics can track, record, and report your website's key metrics, so at the very least you can check how much traffic your website is getting, find out where your users are coming from, and measure how they interact with your website. As part of your quest to improve your search engine ranking, Google Analytics is an essential tool.
Google Search Console is equally essential in helping you to maintain and optimise your website. Google Search Console helps you understand and improve how Google sees your site, confirming that Google can find and crawl it, fixing indexing problems and requesting re-indexing of new or updated content, displaying Google Search traffic data, and delivering alerts when there are indexing, spam, or other issues on your site. Google Search Console also shows you which sites link to your website, and troubleshoots issues for AMP (accelerated mobile pages), mobile usability, and other search engine ranking features.
5. Optimize Your Website For Mobile
On which subject, another essential for how to rank higher on Google is optimising your website for mobile use.
Since the introduction of the iPhone in 2007, the trend towards mobile search has been inescapable, and in 2016 mobile website views surpassed desktop views for the first time. Now Google actually penalizes websites that don't feature a mobile-optimized version, so supporting mobile browsers is no longer just best practice, it's a vital element in how to rank higher on Google.
If you have a WordPress site, there are plenty of functions such as the plug-in Jetpakk and WPTouch designed to make your site function well on mobile devices.
There is a choice of approaches available – you can either create a mobile-only site which functions only on mobile devices, or a responsive site which switches themes according to the device used, changing text sizes, image sizes, layout and so on to optimise the user experience according to device used.
6. Improve Your Page Load Speed
Another essential for how to rank higher on Google is to improve your page load speed. Research by Yottaa shows that one additional second of load time reduces conversions by seven percent. Improving page load speed resulted in 62 percent  more conversions for US Xpress, and Bidu grew leads 30 percent by reducing average full page load times from 13 seconds to 2.3 seconds. The average time it takes to fully load a mobile landing page is 22 seconds, but 53 percent of visits are abandoned if a mobile site takes longer than three seconds to load.
There are many ways to improve your search engine ranking by speeding up your page load time, many of them extremely technical. This is where the help of an SEO agency may be necessary.
Among the techniques they can try are:
Minimizing HTTP requests – around 80 percent of a web page's load time is sent downloading elements such as images, stylesheets and scripts, so the more on-page components, the longer it takes for the page to render. Use Google Developer Tools to figure out how many requests your site makes, and work on combining and minifying your HTML, CSS, and JavaScript files.

Defer Javascript loading until after other elements of the page have loaded, and set files to load asynchronously (simultaneously) so they aren't queuing to load.

Minimize 'time to first byte' (TTFB) by looking at network issues and web server configuration and enabling caching.

Reduce server response time by checking the speed of your DNS provider, and consider paying more for faster VPS hosting or dedicated hosting rather than cheaper shared hosting.

Run a compression audit to make sure your files are as small as possible – particularly image files.

Use external hosting platforms for large files such as videos.
7. Create Videos
On the subject of videos, another solution to the question of how to get higher on Google search is to include compelling video material on your website. The Red Website Design blog gives the following reasons why:
The art of selling is about storytelling, and videos are the best way to share a story

Videos keep people engaged with your website longer and involve them more with your content

Videos give you the opportunity to engage person to person

No matter what your product or service is, videos keep your audience interested,

Videos are a fast and convenient way to deliver information

According to research, 85 percent of people are more likely to buy a product once they see an accompanying explainer video
So far as search engine optimisation is concerned, your Google ranking will be improved by using videos because Google now displays video in their search results, boosting your chances of being found for certain keywords. Google ranking is influenced by the freshness and relevance of content, so sites which are test-heavy and rarely updated will rank lower than well-designed ones with regular new content including videos.
8. Optimize For Voice Search
As with mobile search, voice search using products such as Alexa, Siri and Google Assistant is becoming more popular – Andrew Ng of Baidu claimed that by 2019, 50 percent of searches would be made by voice or image. While smart speakers aren't taking off quite as quickly as he predicted, speech recognition is improving, and Google introduced the concept of more speech-based searches in it Hummingbird update in 2013. But voice search still has limited applications – for instance it is more likely to be used when the searcher is driving or watching TV, or looking for a local business. Ask yourself whether voice search is relevant to your business and your customers, and don't emphasise it over the basics of SEO.
9. Create High-Quality Backlinks
SEO expert Matthew Barby finds that "On average, the higher up page 1 the result is, the greater the number of linking domains that the webpage has. Webpages ranking #1 had an average of 168 percent more linking domains than those ranking #5." In other words, backlinks – links to your website from other websites – really matter to your Google ranking.
Building backlinks from authoritative websites can be difficult – if no-one knows who you are, why should they link to you? Link building is an art in itself – Matthew Barby suggests starting by using a tool like Ahrefs to analyse your ratio of backlinks to linking domains. "If you find that your backlinks are mainly coming from a small pool of domains, look at a way to diversify your backlink strategy to get links from a greater variety of domains" he says. "Work on acquiring backlinks that have your keyword present within the anchor text of the link" is another essential piece of advice – and because high ranking webpages in Google tend to have shorter URLs, he suggests you "Pull a list of all the URLs and page titles from your website using a tool like Screaming Frog SEO Spider – export the data into Excel and then calculate the length of each one using a simple LEN() query. Quickly identify any page titles and shorten them down to ensure they're as succinct as possible."
Screaming Frog, a website crawler, allows you to crawl websites' URLs and fetch key elements to analyse and audit technical and onsite SEO. Screaming Frog can be downloaded free, and there's a paid-for version with advanced features such as unlimited crawls, Google Analytics integration and free technical support. Other web crawlers include Octoparse, WebCopy and HTTrack.
10. Optimize For Local SEO
Our last tip on how to get higher on Google search is to optimize for local SEO. Because Google understands that many searches (particularly mobile ones) are looking for local bricks-and-mortar businesses, it favours relevant websites containing local information. Search results using Google Maps or Google My Business are driven by three factors; proximity (taking into account the searcher's geolocation), prominence (the number of links your website has, reviews on other sites, social media links and so on) and finally relevance (having well-structured content using correct categories). Some of the ways local SEO works can seem a little unfair – for instance having keywords for your market sector in your company name will give you an advantage.
All these techniques qualify as what is known as 'white hat SEO' – in other words, ethical search engine optimization strategies. White hat SEO focuses on its human audience rather than search engines, and conforms to search engine rules and policies. The opposite of white hat SEO, known as black hat SEO, involves unethical techniques such as keyword stuffing, cloaking, and using private link networks. Black hat SEO techniques can result in your website being penalised by Google, and so are not advisable.
How Long Does It Take To Rank On Google?
The answer to this one is 'longer than you might think'. You may assume that with the aid of an SEO agency and all our advice about search engine optimisation, keywords, backlinks, social media, content marketing, paid traffic and link building, you would get immediate results from and SEO campaign – certainly quicker than by relying on organic search.
In fact, your website is unlikely to feature high on SERPs for some time, even with all these techniques in play.
Organic search, otherwise known as natural search, refers to search results which are unpaid, in contrast to paid search results from pay-per-click advertising, which are generated via an auction system. Organic search results are based purely on relevance to the user's search query, links and domain authority and other organic search ranking factors.
But relying on organic search results while your competitors use other methods such as PPC is extremely challenging.
Brent Gleeson on Forbes.com gives these estimates for the time taken to improve Google ranking by different methods:
Pay Per Click Campaign: 90 days. "This is an average estimate, but with Pay Per Click campaigns, the bidding needs to be optimized and the copy needs to be constantly A/B tested to find the right messaging so that the client's goals can be met. This doesn't happen overnight. As changes are made, they need time to mature and gain traction."
Search Engine Optimization: 90-180 days. "SEO is one of the most mysterious aspects of digital marketing because Google holds all the cards and they are constantly changing the rules of the game. Therefore, we try to set attainable goals and manage expectations for potential success. To be frank, 90 days is being generous. 180 days is usually more realistic, and it all depends on the keywords you are trying to rank for and how competitive they are."
Social Media: 30 days. "You should be engaged in social listening, researching your competitors and planning your content calendar in advance. Social Media has become data-driven and needs to be tracked just like any other marketing channel. The days of posting impromptu snippets about your company like "Great time at the company breakfast this morning, ate way too much bacon…" are over. These posts need to be well thought out and targeted towards engaging in your specific audience. Social media will also play a major role in any content marketing strategies."
Gleeson states that unrealistic expectations often cause companies to change their digital marketing campaigns before they have been given time to work. He also argues that being unable or unwilling to modify a campaign as it matures can work against it. "Even if you have hired an agency or invested in in-house staff, how do you know they are qualified or performing at optimal standards?" he says. "Key stakeholders must be aware and take ownership of critical data points. For example, if you are running PPC campaigns, you should know how to log into Adwords and check the account history and be able to follow the modifications being made to the account. This should be the same with any aspects of digital. Know the terms, the KPI's and best practices. If you don't have the time then you should find someone who does – hire a consultant to run audits every month and help weed out unqualified work."
How Do I Increase My Visibility On Google?
Jia Wertz, CEO of ethical fashion brand Studio 15, gives the following tips for how to rank higher on Google:
Create A Link Building Strategy
Think of backlinks as a 'vote of recommendation' for your site. Start your link-building strategy as early as possible, because it could take months for Google to update your ranking and for you to get the benefits of your link-building efforts.
Increase Your Site Speed
Slow loading websites have very poor bounce rates, the number of visitors who come to the landing page then click right off it. Test your page site speed and optimise it and you will get immediate benefits in a lower bounce rate and improved engagement.
Update Your Site Frequently
Google likes fresh material and will penalise your website if it does not have new content posted regularly. A blog is the most obvious way to do this, giving your customers a reason to return to your site regularly and improving your search ranking.
Optimize For Long-Tail Keywords
While it's often difficult for new websites to compete for top keywords, long-tail keywords (phrases with three words or more) popular can be easier to rank for.
There are other important techniques – such as content marketing, guest-blogging on other websites, developing social media campaigns and encouraging customers to leave online reviews – all of which will help you to gain the benefits of SEO and ultimately improve your website visibility and ROI.
Four Tips To Help You improve Your Business's Ranking On Google
The first step in improving your businesses ranking on Google is to use Google's own free tools to review your current search ranking. Bear  in mind that if you search for your own website, you won't necessarily get the same results as anyone else – your searches are personalised and are affected by your search history. Sign out of your Google account, change your location setting and open a new tab for each keyword term search.
Once you have done this, create a technical SEO audit using tools such as Moz to check bounce rates, content quality, keyword relevance and freshness, and to eliminate red flag items such as keyword stuffing, outdated themes, malware, slow loading, missing certificates, lack of a sitemap, use of Flash, over-large image files and so on. 
As we've said previously, you should frequently update old and outdated content – Yoast advises the following principles:
Update old content that is still valid – if it's 'evergreen' content but needs updating with new terms or policies now and again, refresh it, or perhaps merge old posts together and redirect the old post URLs to the new post, using a 301 Redirect.

Delete irrelevant posts or pages, such as for a discontinued product or defunct supplier, or just a page with thin content – tell Google to forget about these old posts or pages or give the URL another purpose.

"301 Redirect" an old post to a related one if the URL still holds some value such as quality links.

Tell search engines the content is intentionally gone – if there isn't a relevant page on your site you can redirect to, it's best to tell Google to forget the old post entirely using a 410 Deleted notice, to avoid Google returning a 404 Not Found status.
Another important aspect is to work on your 'domain authority'. Domain authority is a search engine ranking score developed by the SEO software company Moz, which predicts a website's ability to rank on search engine results pages. Domain authority rating ranges from a score of 1 to 100 – the higher your score, the better your website will rank. Moz accounts for over 40 factors such as root domains and number of inbound links to calculate domain authority – websites with a large amount of high-quality inbound links have the highest domain authority, while new websites with little or no inbound links typically have a domain authority of one.
(Moz has also developed a scoring system for 'page authority'. Rather like domain authority, page authority is scored out of 100, using data from the Mozscape web index. Moz's page authority checker is comparative, showing you how your PA is building, so there's no such thing as a 'good' or 'bad' score. Both your website and individual pages can have authority conferred by links from other websites, with domain authority and page authority gained according to similar criteria.)
Finally, improve your on-page optimisation using techniques such as optimising your page titles and location information, cleaning your URLs to keep them short, simple and understandable, assigning relevant file names with keywords and alt tags to images, including title tags and met a descriptions using relevant keywords, and creating internal links.
What Are Keywords In SEO? 
Keywords are the basis of search engine optimisation, the elements which help an internet search engine to direct relevant searches to your site. Implementing keyword SEO help your site to rank above your competitors on search engine result pages. Developing a list of relevant keywords is one of the first steps in any search engine optimization initiative – the two are directly connected.
How Do I Choose The Best Keywords For SEO?
Keyword research can be a long and repetitive process, but it's simple in principle, and is aided by the large number of free and paid-for keyword research tools available. A basic policy is that very popular keywords are likely to be too competitive for your website to benefit from using them – particularly if you are up against using paid search techniques to get their websites to the top of SERPs. In general, the best advice for keyword research is:
Don't do it only once. Keyword research should be a continuous process of refinement.

Keep expanding your SEO keyword list, without targeting keywords which are too popular and competitive

Reevaluate old keywords periodically. High-volume, competitive keywords (or "head" keywords, as opposed to long-tailed keywords) can often be replaced or augmented with longer, more specific phrases designed to bring in exactly the right visitors.

Diversify in your use of keywords. You won't stand out if you use the same ones as your competitors.
How Can a Digital Marketing Agency Help With SEO?
Using a digital marketing agency can bring a wealth of experience and knowledge to your campaign. While it might be easy for you to use free tools and online tutorials to make a start in launching a campaign and improving your Google ranking, you may be spending a lot of your valuable time re-inventing the wheel, or making mistakes which an agency would avoid.
Some of the things a digital marketing agency can do for you include:
Analysing customer behaviour. You may have an understanding of your market, but do you know how a customer will navigate through the 'sales funnel' of your website, from landing page to checkout? A digital marketing agency will help you to plan this journey.

Creating a story. A digital marketing agency can help you to produce quality content which will create a brand image, engage with your customers and build repeat business.

Gathering tools. While there are many basic free software SEO tools available, others are more complicated or costly, and a digital marketing agency will have access to them and the experience to use them. Whether for e-mail marketing tools such as MailChimp or Drip, analytics tools like Google Analytics or KISSmetrics, or communication tools like Slack, these tools will help you accomplish your key tasks and will come as part of the digital marketing package.
What Do Digital Marketing Agencies Do?
The essential role of a digital marketing agency is to take on the technical, maintenance and monitoring side of your website design and administration, while working with you on the design, branding and marketing elements of your campaign. 
Unless you have the time, staff and resources to learn everything you need to know, your best route is to hire an agency which will take on the time and cost involved in setting up your own digital marketing department. While you concentrate on building your business, the digital marketing agency will take care of the nuts and bolts of your online campaigns, so you will gain the benefits of SEO and improve your Google ranking without having to put in all the hard work yourself.
A good digital marketing agency will know the difference between white hat SEO and black hat SEO, and will not promote black hat SEO techniques which may be of short-term benefit, but which will result in your website being penalised by Google in the long term. 
While this sort of service isn't free, it will being you expert input from a team of specialists at a fraction of the cost of setting up your own team. You won't have to worry about the tiny details, so long as you find a digital marketing agency which is in sync with your ideas and understands what you are trying to achieve for your business.
---
TRON Media can help with all your digital marketing and Google ranking requirements. TRON Media has a highly qualified team of trained specialists in SEO, digital marketing, PPC, website design services, website security, email marketing, WordPress, HTML coding, CMS, paid search marketing, Google Ads, content marketing, digital strategy and social media, and can work with you to develop your ideas and build a digital marketing campaign perfect for your business.
TRON Media is a leading digital marketing agency in Brighton, offering the easiest and most cost-effective way to guarantee that digital marketing works for you. Get in touch today to find out about our latest digital marketing management services, web design services, email marketing services, and what a digital marketing campaign can do for your Google ranking.
Contact us using our Contact Form, call Simon on 020 3006 6889 or email us at: [email protected].